The Oregon Humane Society mourns the loss of Michael Marx who passed away after this article was published. He will be missed. Because of their Charitable Gift Annuities his commitment to help homeless and injured pets will continue long into the future.
Portland has been home to Don and Michael since they relocated from California 19 years ago. Long-time animal devotees and rescue advocates, they became active OHS supporters shortly upon their arrival.
When they settled into a high-rise retirement community some years ago, they decided it was time to add a new cat to their family. While they greatly loved their 16-year-old dog Pepper, she is not a lap dog. Seeking a cuddle buddy, they came to OHS and found Simba. Despite Simba being FeLV positive, Don and Michael decided to give him the best life possible. Their efforts were rewarded as Simba lived a long happy life.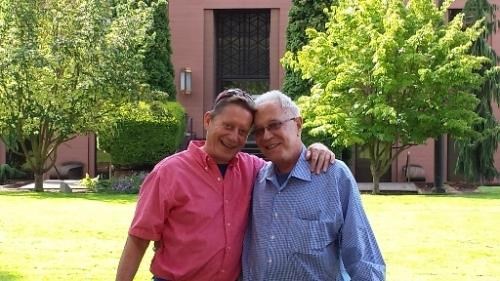 Michael has battled serious health issues recently, and Simba's calm comforting presence was a great help to Michael. Research has shown that animals help lower stress, a big factor in healing. So, when Simba passed, Michael felt his absence keenly.
They came back to OHS hoping for a cat, but quickly fell in love when an adoption counselor introduced them to a tiny Chihuahua who had been found as a stray in California. Don and Michael fell in love with the little fellow, adopted him and named him Pumpkin.   
Don and Michael have taken out several Charitable Gift Annuities, CGA, because of their great love of animals and belief in OHS's mission. "It's a great organization," commented Michael. A CGA is a good vehicle for the couple because it adds to their income while they receive a tax deduction (for the initial gift and part of the annual income). "It's a good way to support a cause you believe in" Don said.
Don and Michael enjoy their retirement community, their pets, and making a difference by contributing to the mission of OHS.
For more information about charitable gift annuities, contact Gary Kish at legacyteam@oregonhumane.org or (503) 416-2988.