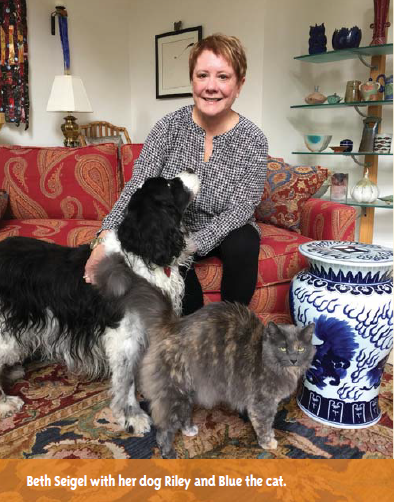 By Kristin Anderson
Beth Siegal's house is a jewel: a light-filled bowler overlooking the forest and filled with the conquests of a fascinating life—photographs, pottery, sculptures, memories. But it is hardly a museum. Riley, her springer spaniel, ambles around eagerly wagging his stumpy tail, and Blue, her cat, lays claim to the furniture by striding across pieces one by one. Both were rescue animals, but the rescuing works both ways, Beth says: their companionship is essential to her, all the more so since her husband died a decade ago of early-onset Alzheimer's.
"When my husband became ill, Riley really became my best friend—he was always in the back seat of my car as we drove to the care home. As for Blue, I love female cats—they rule, and they're fascinating: independent, yet not," Beth says. Having Riley and Blue means "not walking into an empty house. And especially with a dog, once you cross the threshold, if you've had a bad day, they're so ecstatic to see you that you can't stay downhearted. I adore my animals—they've given me so much."
To return the favor, Beth has joined the OHS Friends Forever program to ensure that, if she can no longer care for her pets, OHS will step in. "As I age, it allows me to have pets and not worry about if something happens to me. I know the pets will be taken care of," Beth says with a smile. "Plus I've updated their care plans, so that OHS will know their whole regimen of Chinese herbs and homeopathic instructions!"
In addition to leaving provisions in her will for Riley and Blue's care, Beth has started donating to and volunteering with OHS. Beth's high profile business career—she travelled all over the country as an interim marketing director for Federated
Department Stores before settling in Oregon and joining Morgan Stanley—has made her an invaluable volunteer. She has been asked to help with the New Road Ahead initiative, a process to establish the organization's future strategies by assessing changing needs.
Ever the business strategist, Beth admires the rigor OHS applies to planning for the future. "They're doing a planning process that's not just token. It's always surprised me how many organizations don't have a plan, and/or don't follow it," she explains. "I am an ardent planner, and I can see why OHS has been very successful: they've had that planning mentality. They can adapt to needs very quickly, but they don't throw the core beliefs out in solving a crisis because they've already built that flexibility into their planning."
In addition to giving her time and expertise to the New Road Ahead, Beth has been generous to OHS financially and has joined the Thomas Lamb Eliot Circle. She donates to OHS for two primary reasons. First, she admires the organization's work, especially in addressing animal abuse (which she recognizes as "an early warning signal to those who inflict cruelty on humans, too,") and in caring for elderly animals. "More older pets are being turned in because people can't afford the care, or because they have to sell their homes and rent."
She also donates to OHS because she has done her homework. "I research my giving, because personally, I want to donate to a charity that's really well-run," Beth says. "You have to work hard to have the outstanding ratings that OHS does, and their leadership is excellent at all levels." Giving to such an effective organization is fulfilling, she says.  "I've been lucky in life.  I've had a good career, I'm financially secure, and I think that organizations that do outstanding work should be supported. OHS has transitioned with the times beautifully, and always has a foot in the future."
"And," Beth adds, glancing at Blue and Riley, "there are a lot of animals that need their help."