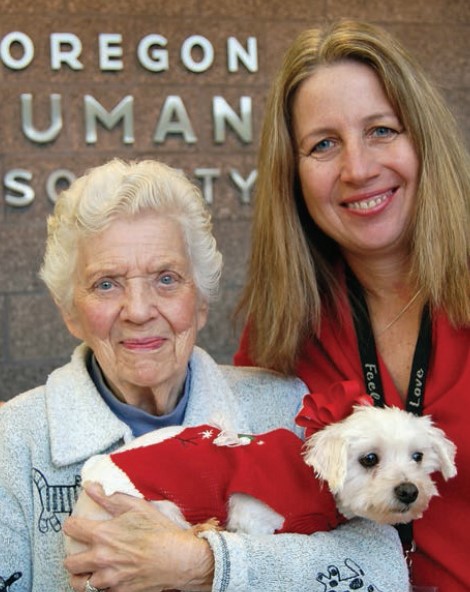 JANICE HOOSON loved all the animals who visited her backyard, raccoons and skunks included. She was known among friends as Saint Jan of Assisi, but to the Oregon Humane Society, she was known as one of the most generous donors in the recent history of the organization.
Jan met OHS President and CEO Sharon Harmon soon after Harmon started working at OHS in 1989. Jan would ask Sharon to identify a shelter pet to adopt, typically small, white, fluffy dogs.  Over time, Jan adopted Mimi, Lacey (a Maltese rescued from an overwhelmed breeder in Medford), and Juliette. She was equally devoted to the cats she adopted.
A charter member of the OHS Thomas Lamb Eliot Circle, Jan said yes to requests for donations for the animals more than 100 times. Jan was one of the largest annual donors to OHS since the early 1990s, said Harmon.
During the economic downturn in March 2009, Jan wrote to OHS saying, "I can't believe people are giving up their pets now. Perhaps this donation will help a little." She was generous in her donations but very modest about receiving any recognition for her gifts. Often apologetic, Jan was never convinced that her gifts were large enough. Harmon refers to Jan as "the quiet philanthropist."
Born in Pendleton, Oregon in 1921, Jan's father worked as a butcher and her mom stayed home to raise their three children. The family moved to North Bonneville, Washington, and Jan graduated from Stevenson High School in 1940. Her family subsequently moved to Portland where Jan and her high school best friend, Mary Potts Brathovd, attended secretarial school. In the late 1940s, she met and married Robert Hooson, who worked as a division chief for the U.S. Army Corps of Engineers. The couple had a house built in Southwest Portland the 1959 and Jan lived in that same house the rest of her life, according to her best friend's daughter, Gail Reynolds.
When Reynolds lost her mom at an early age, she and Jan forged a mother-daughter friendship that lasted until Jan passed away on July 2, 2017, at age 95. Jan never had children, but was devoted to animals, both those she adopted and those she fed in her back yard. Jan donated a paver for the front walkway leading to the shelter that reads, "My Pets Are My Life." According to Reynolds, Jan provided her dogs the very best, feeding them chops and steaks; they didn't care for hamburgers.
After retiring from a career as shipment comptroller for United Grain in Portland, Jan lived independently in her home and had never been hospitalized prior to the week she passed away.
Jan's housekeeper adopted her dog Juliette, and Jan's cat Daisey came to the shelter through the Friends Forever care-of-surviving-pets program.
Daisey quickly found a new home with OHS employee Alexis Ingram who fell in love with "the dream kitty" who had been Jan's constant companion. The cat, whom Ingram renamed Tillie, now lives with her new family of two humans and two big dogs and quickly established that she rules the house.
Read about other Legacy donors.