Estate Planning – Lessons from Celebrities
Top 10 mistakes to avoid during estate planning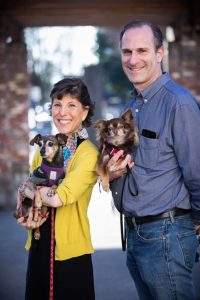 Everybody makes mistakes — that's a given — but not everyone learns from them. Local attorney and OHS supporter Michelle-Shari Kruss, Attorney at Law, (pictured on the left with her husband Steve with their beloved dogs) shares ten unfortunate estate planning mistakes famous celebrities have made and how you can avoid doing the same in your own planning.
Lesson #1: Every person over the age of 18 needs a plan.
Example: James Dean, Sony Bono and Pablo Picasso all died without a will in place. The results were years of litigation, family disagreements and costs.
Lesson #2: Watch out for unexpected heirs.
Example: Without a will in place, singer/songwriter Prince's estate was distributed to his half siblings with whom he had previous legal conflicts.
Lesson #3: Proper planning can help avoid unnecessary taxes.
Example: Warner Burger, a former Chief Justice of the United States Supreme Court had a handwritten, one page, 66-word will with no tax planning. Chief Justice Burger's desire to avoid the cost of having proper documents drafted cost his heirs over $450,000 in avoidable taxes.
Lesson #4: Coordinating beneficiary designations with your estate plan is extremely important — especially if you are a blended family.
Example: When NFL star Steve McNair was killed, he didn't have a will. It was assumed his entire estate would go to his wife, but a judge had to step in to determine his rightful heirs.
Lesson #5: Incapacity planning should not be ignored. Every adult over the age of 18 should complete medical and financial powers of attorney.
Example: Groucho Marx's companion of seven years and his children fought for years over control of his medical decisions before he died in 1977.
Lesson #6: A laissez faire attitude ("I'll let my family work it out.") often leads to costly and lengthy post-mortem litigation.
Example: Heiress Huguette Clark changed her will multiple times before her death leading to extended litigation among fighting family members.
Lesson #7: In the absence of documentation, your family decides what happens with your body.
Example: Gene Roddenberry and Ted Williams had very unusual requests, which were fulfilled, for the disposition of their remains. Can you guess what they were?
Lesson #8: If you would like certain personal items like jewelry, photos, or cars to be given to family/friends make sure to correctly reference that list in your estate plan.
Example: Princess Diana hand wrote a "letter of wishes" that directed her executors to give a number of personal effects to her godchildren. Those executors, her mother and her sister, went to court and had it ruled unenforceable.
Lesson #9: Make sure everyone knows where you estate planning documents are located, how to access them and when they might be required.
Example: When Olympic sprinter Florence Griffith-Joyner died, her will could not be located. As a result, her estate remained open for more than four years, incurring unnecessary expenses and delays.
Lesson #10: Pets, minor children and special-need family members need help managing their inheritance. Appointing a reliable trustee can help.
Example:  Real estate mogul Leona Helmsey cut her grandchildren out of her will and left $12 million to her dog. The result was years of litigation.
Tobacco heiress Doris Duke appointed her butler to oversee her billion-dollar charitable foundation. He was removed by a court after his spending habits were called into question.
If you have questions about including OHS in your estate plan, including how to plan for your pets, please contact LegacyTeam@oregonhumane.org.
Michelle-Shari Kruss, Attorney at Law, Krusslaw P.C., specializes in estate planning, wills and trusts. For more information, call (503) 490-4020 or visit www.Krusslaw.com.