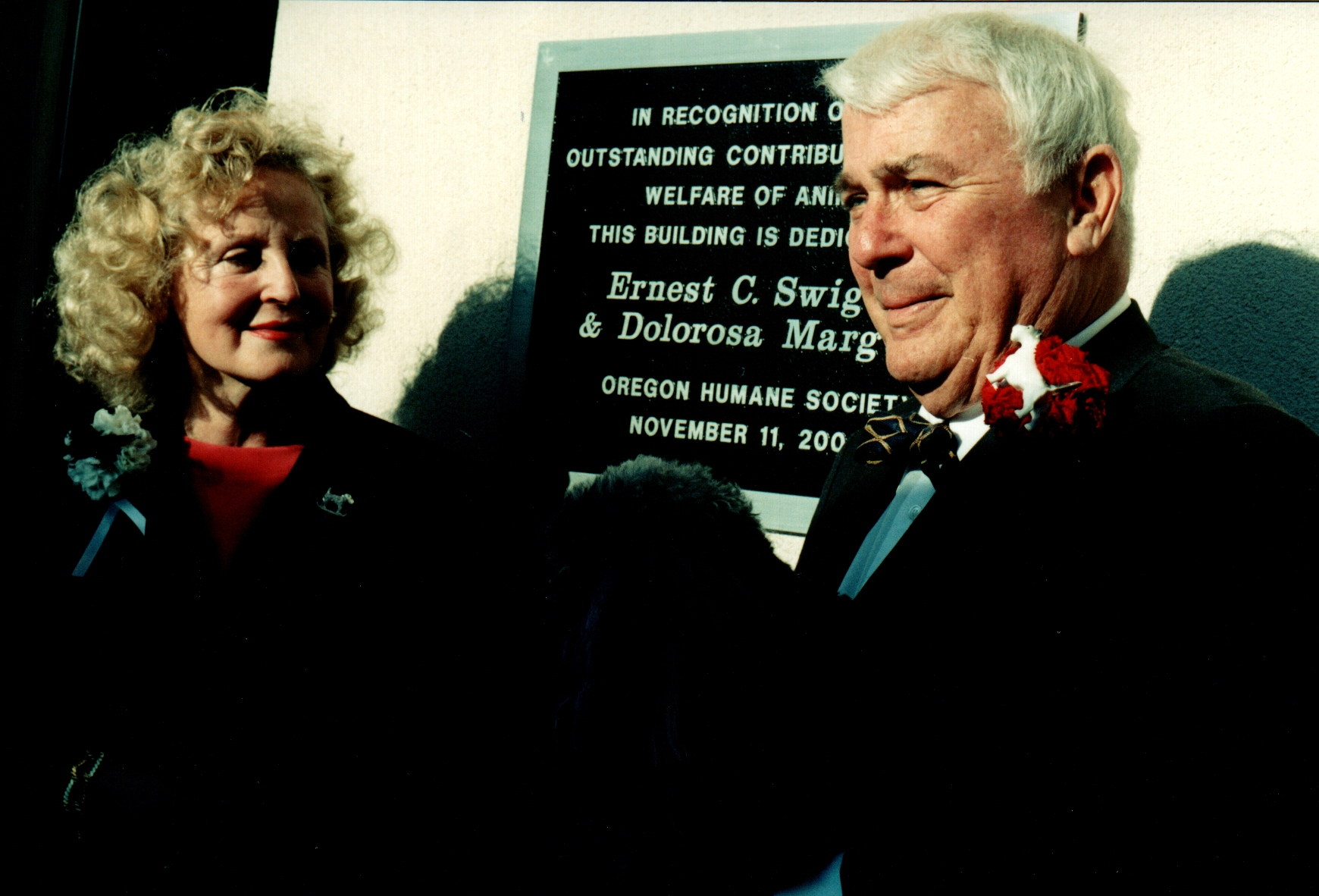 Oregon Humane Society's groundbreaking  45,000 square foot shelter facility, opened in 2000, is named the Ernest C. Swigert Animal Shelter in Ernie's honor. His relationship with OHS was significant as he was a generous donor, fund-raiser, and animal advocate. 
Swigert's concern for creatures led him to chair the organization's Board of Trustees serve on its advisory board, and co-chaired the  campaign in the 1990s with Dolorosa Margulis that resulted in the construction of the modern shelter that is in use today.  
"As leader of the new shelter campaign, Ernie and his longtime friend Dolorosa Margulis threw countless events and invited many of Portland's philanthropists to join them in supporting the new shelter," said Sharon Harmon, OHS President and CEO. 
Swigert ensured that all funds were raised before ground was broken. Today, the state-of-the art Earnest C. Swigert Animal Shelter is considered a model for animal welfare organizations  around the world. 
Ernie was born in 1925, the grandson of pioneering West Coast industrialist and engineer, Charles F. Swigert. The Swigert family owned ESCO Corporation, a steel-plating business that also produced earth-moving equipment. The spinoff company, Hyster, sold forklift trucks worldwide. Ernie attended Catlin Gabel Academy, Milton Academy and Harvard University. As a member of the U.S. Army's 754th Tank Battalion from 1944 to1946 he served with distinction during the Japanese counterattack in the Philippines. Swigert received numerous medals for his military service, including a Bronze Service Star. Swigert joined the family business after World War II, then moved to Holland in 1952 to help open a new Hyster plant. He remained in Europe for the next 30 years.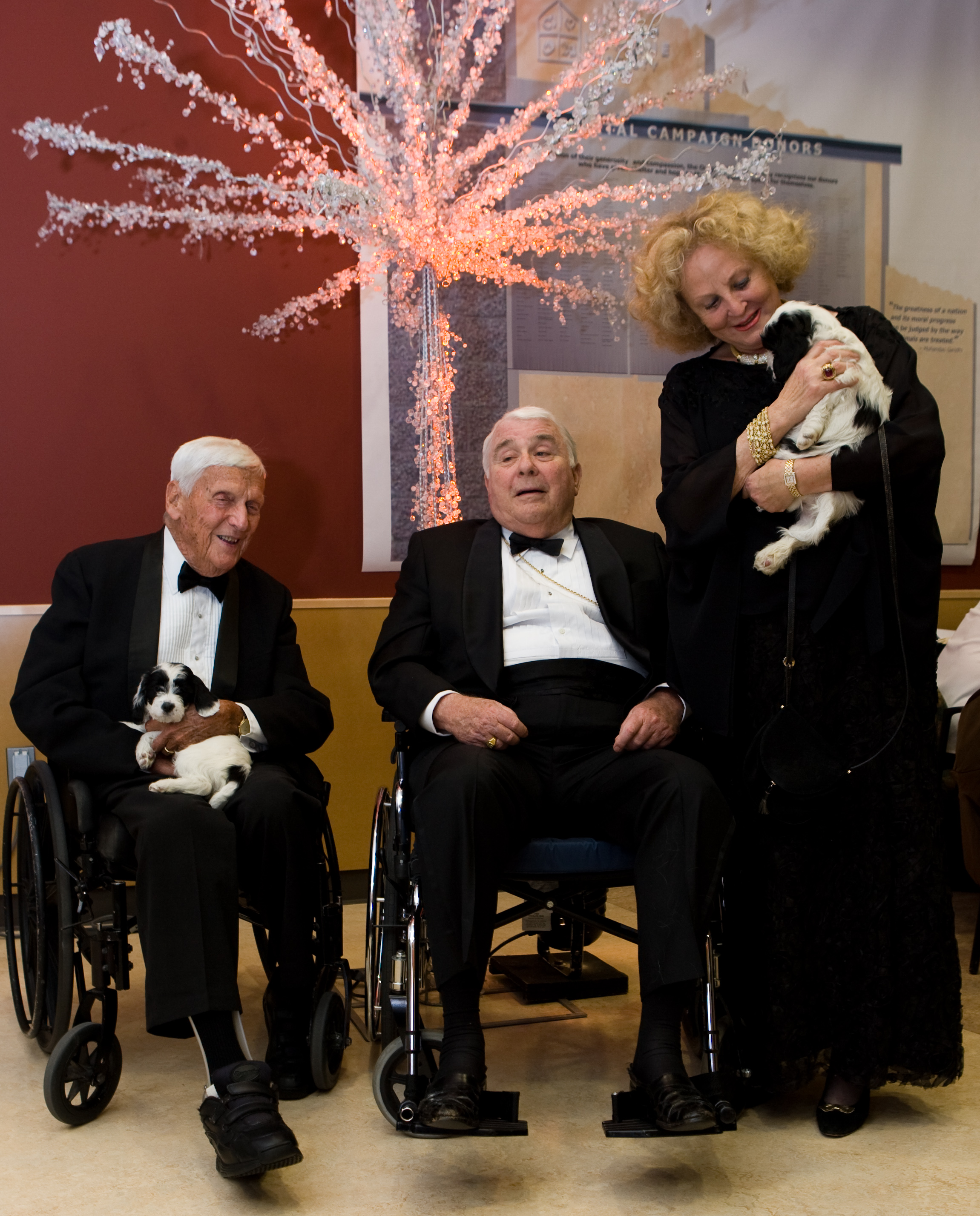 In 1985, Ernie returned to Oregon and established the Swigert Foundation in 1990 with his brother Hank. Many organizations benefitted from the generosity of the Swigert brothers. Always fond of animals, Ernie was especially generous toward Oregon Humane Society, from which he had adopted several dogs. He usually had a perfectly coiffed poodle under each arm. His friends recount stories of his generations of dogs, including two named Pot and Verrdorie, which translates into a Dutch exclamation. 
Swigert was a generous patron to many other organizations as well. He supported the Delta Foundation, which was instrumental in initiating and furthering study of the animal human bond. Today, it is called Pet Partners. In 2002, he was awarded the Simon Benson Award for his many philanthropic contributions. 
Ernie wanted to put OHS on sound financial footing.  As a devoted animal welfare supporter, Ernie was one of the earliest advocates for OHS to have an endowment. In 2006, Sharon Harmon presented the organization's first Diamond Collar Lifetime Achievement Award to Swigert. "Ernie had two great loves. He loved entertaining and he dearly loved his dogs," recounts Sharon Harmon. "He put considerable energy into making OHS the organization that it is today."  
When Ernie passed in 2008, his beloved toy poodle Pot and black labs Sherman and Beauregard were at his side. His final contribution was a six-figure bequest to OHS' endowment.  His name graces OHS' front entrance marquee and OHS receives annual distribution from his endowed gift, both serving as enduring reminders of Ernie's love for animals. 
Sharon Harmon wrote upon his passing, "The Oregon Humane Society bears Ernie Swigert's name above our main entrance, a small testament to his incredible love of companion animals and the inspiration he provided to all of us here. His spirit will always be here to inspire us."
Read about other Legacy donors.